OUR REFRESHED VISION
Beyond disabilities: empowered and thriving in inclusive communities.
Rainbow Centre started its mission to provide equal educational opportunities to students with disabilities with its first school in Margaret Drive in 1987. Over three decades, our range of services has evolved and expanded. This includes a training and consultancy arm to equip practitioners and the public to work with persons with disabilities. We have also moved beyond just education services: offering a Vocational Programme to prepare our students for life after they graduate from school, and supporting families with a Student Care Centre, and a Family Empowerment Programme.
To reflect the growth of our services, the board and management undertook a review of our vision and mission last year. At the heart of our refreshed vision is our clients – empowered, included and thriving. This vision of our clients will drive our work, be it in teaching the skills they need or fostering inclusive communities in which they can make meaningful contributions. In line with our vision and mission, we have embarked on a three-year strategic plan, focused on serving our clients.
A new logo was launched during our 30th Anniversary celebration in November 2017. The diverse arcs in our new logo represent the person-centric approach of Rainbow Centre, where everyone is celebrated for their uniqueness and abilities. These individual paths come together to form a rainbow – a symbol of hope and our aspirations for the persons and communities we serve.
We recognise that the real success of the work of social service organisations like Rainbow is inextricably linked with the community – we succeed only when the people we serve are able to thrive in their communities. It takes more than Rainbow Centre to build inclusive communities. It takes a village, or in today's terms, a township.
In both our campuses in Margaret Drive and Yishun Park, we have been blessed with neighbours who believe in our cause and have warmly opened their doors to our students as well as come into the Rainbow Community. We look forward to building such a community in our new Woodlands campus.
To all our partners and friends, thank you for walking with us in this journey. We look forward to deepening our relationship with you to build more inclusive communities that will enable the full development of persons with disabilities so that they are in a position to live the lives that they choose to live.
Mr Yew Teng Leong, PBM
President
Rainbow Centre, Singapore
Ms Tan Sze Wee
Executive Director
Rainbow Centre, Singapore
Our 3-Year Strategic Plan
With our refreshed vision, we have identified four key thrusts to guide our plans towards achieving our mission.
Service Excellence
Because our vision for our clients is achieved through quality programmes and services
Lead in innovating to transform services to meet future needs
Set exceptional standards in person-centric services and service delivery
Strategic Partnerships
Because we are aided by our partners who play key roles in the success of our clients
Deepen partnerships that advance strategic goals of RC
Ensure structured and targeted approach to work with families
Operational Excellence
Because our success is based on process excellence and organisational effectiveness
Drive quality execution through enhanced standards and systems
Optimise resource allocation aligned to strategic goals
People Developer
Because our staff are the best representation of our beliefs and values
Build a culture of high performance, innovation and accountability
Develop a diverse talent pool
EARLY INTERVENTION SERVICES
Rainbow Centre's Early Intervention Services journey with families and their young children (aged 6 and below) by providing support required for the children to grow, learn and achieve their developmental milestones. The programme focuses on early intervention within the child's daily routines and natural environment, and adopts a transdisciplinary team approach that involves the family throughout the intervention process.
Highlights
New Facility
The early intervention centre at Margaret Drive moved into its new facility in January 2018. The new centre is able to enrol up to 350 children and is designed as an intuitive, evocative space for our students to explore and be motivated in their own learning.
EIP@Home
Following the success of the pilot run in 2017, the EIP@Home programme was rolled out in 2018 to serve all babies and toddlers (aged 18 months and below) in their home and community. The programme believes in the power of having caregivers understand child development and helping their children achieve developmental goals within daily routines. Our Early Intervention team visits the homes weekly and explores fun and engaging activities where intervention strategies can be embedded.
Students Served in FY 2017/2018
| | |
| --- | --- |
| MARGARET DRIVE | YISHUN PARK |
| 256 | 326 |
SPECIAL EDUCATION PROGRAMME
Rainbow Centre schools aim to nurture young persons with disabilities (aged 7-18) into adults who are able to live independently and interdependently, learn to grow continuously, and engage in active participation and contribution to the community. The outcomes-based functional curriculum is facilitated by a teaching team and supported by an interdisciplinary therapy team to enable students to access their educational goals.
Highlights
A New Campus
Rainbow Centre Yishun Park School (Woodlands) received its first batch of 39 students in January 2018, housed temporarily at the Margaret Drive and Yishun Park campuses before moving to an interim campus at Marsiling Lane. A purpose-built campus at Admiralty Link is projected to be ready by 2022 to serve up to 300 students with autism.
Curriculum Development
The Special Education (SPED) curriculum completed its beta pilot successfully, with feedback and data to prepare for the implementation of the final curriculum in 2019. The curriculum is aligned to our programme which has been restructured to meet students' needs at different life stages: Junior Programme (students aged 7-10), Middle Programme (11-14), and Senior Programme (15-18). A curriculum management system and training for teachers will be rolled out in the second half of 2018.
Vocational Training
A Work Preparation Programme for students aged 17-18 was launched. Job coaches worked with the inaugural batch of 21 students on work skills to prepare them for life after graduation. Selected students got to intern in companies such as Pizza Hut, Park Hotel Alexandra, and Khoo Teck Puat Hospital.
Talent Art Programme
The Talent Art Programme was launched to develop students for art-related work and engagement opportunities, with an inaugural batch of four students.
Lee Kuan Yew – Exemplary Student Award
The following students received the Lee Kuan Yew- Exemplary Student Award:
Vince Tan (Margaret Drive School)
Harish S/O Ganesan (Yishun Park School)
Darren Chan Wei Siang (Yishun Park School)
Students Served in FY 2017/2018
| | | |
| --- | --- | --- |
| MARGARET DRIVE | YISHUN PARK | WOODLANDS |
| 363 | 409 | 39 |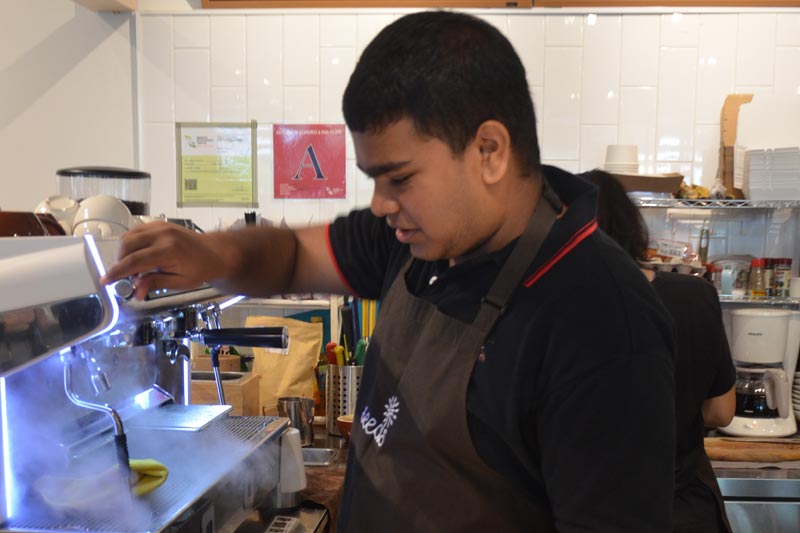 THERAPY & OUTREACH SERVICES
The Therapy & Outreach Services department centralises RC's allied professional services (therapy, social work and psychological services) for effective management of these services, as well as to provide varied career pathways. The unit also oversees OOSH, an out of school care service for students with disabilities.
Highlights
Opening of OOSH at Margaret Drive
RC started its first out of school care service OOSH in January 2018 to support families by providing before-and-after-school care for students with disabilities, aged 7-18. OOSH offers a nurturing and safe environment, with a range of activities for students to explore their interests and build on their abilities.
Family Empowerment Programme (FEP)
The FEP is an intensive coaching programme for parents to equip them with the skills, strategies and resources to manage their child's challenging and at times aggressive behaviours. These behaviours often affect their child's education and ability to participate in community life. Designed to be a strengths-based, family-driven programme, FEP therapists focus on working with parents to develop skills and a proactive plan that will serve the families during difficult episodes with their children. FEP was started with a generous donation from the Koo's Giving Charitable Foundation.
School to Community (S2C)
Funded by the Tote Board-Enabling Lives Initiative Grant, this project aims to support persons with significant disabilities as they graduate from SPED at 18 years old. The project team developed a framework and "The Good Life Plan" resource toolkit that facilitates transition management and ensures individualised care planning service to maximise independence, productivity and inclusion. The team will also pilot a project to create a community of care around our students and their families.
RAINBOW CENTRE TRAINING & CONSULTANCY
The Rainbow Centre Training & Consultancy (RCTC) supports the capability enhancement of professionals in the social service, public and corporate sectors, as well as caregivers to empower persons with disabilities to live thriving lives in an inclusive community.
Highlights
Providing Learning Solutions
As a learning partner, RCTC provides learning solutions to organisations (within and outside the sector) to solve issues faced in their organisation. Last year, RCTC provided consultation and training (learning solutions) for teachers at Vin School (Hanoi).
Collaboration with Partners
RCTC also collaborates with various partners to create new training programmes for untapped areas. Last year, RCTC collaborated with the Centre for Disability Studies to create the "Transition Worker Programme" to serve workers providing post-18 services.
Disability Awareness Talks
In celebration of RC's 30th anniversary and affirming our commitment to advocacy, RCTC conducted free disability awareness talks for 9 organisations including the Supreme Court, Nanyang Polytechnic, Kidzania Singapore, and EK Ang Trading and Transport.

PARTNERSHIP ENGAGEMENT
We engage communities so that together, we can build an inclusive society. The partnership and support of donors, volunteers, and the general public go a long way in providing opportunities that are otherwise inaccessible to our students with significant disabilities.
Highlights
Donor and Volunteer Management System
Launch of donor and volunteer management system for more systematic relationship-building and outreach to partners.
Training for Experienced Volunteers
Launch of training modules for experienced volunteers. Seven volunteers were trained in managing challenging behaviours in students with disabilities.
Volunteer Manager Funding Scheme
Tapped on the Volunteer Manager Funding Scheme (NCSS) to dedicate resources to deepen volunteer management for sustainability.
World Autism Awareness Singapore Campaign
RC chaired the World Autism Awareness Singapore campaign this year. Leveraging on the power of social media, the team created thought-provoking social media posts in April 2018 to create awareness and conversations about autism. The posts were shared 3,300 times and reached 300,000 people.
Fundraising Efforts for Margaret Drive Campus
Fundraising efforts were focused on the extension wing at the Margaret Drive campus. As of 31 March 2018, $6.67 million was raised (including Care & Share Movement matching grant). The project has been completed. We thank all donors for their generosity towards our new space, which allows us to better serve our clients.
CORPORATE INFORMATION AND GOVERNANCE REPORT
Board of Governance
| Appointment | Name | Year Joined | Occupation | Attendance at Board Meetings |
| --- | --- | --- | --- | --- |
| President | Mr Yew Teng Leong | 1992 | Consultant | 5/5 |
| Vice President | Dr Kenneth Poon Kin Loong | 2007 | Associate Professor | 4/5 |
| Honorary Treasurer | Mr Pek Choon Lee | 2010 | Managing Director | 2/5 |
| Assistant Treasurer | Mr Chew Kei-Jin | 2014 | Managing Director/Lawyer | 3/5 |
| Honorary Secretary | Ms Chee Nian Tze | 2010 | Director, Group HR | 1/5 |
| Past President | Dr Lee Eng Hin | 1992 | Professor / Orthopaedic Surgeon | 2/5 |
| Committee Members | Dr Kenneth Reginald Lyen | 1992 | Paediatrician | 1/5 |
| | Mr Alban Kang Choon Hwee | 1992 | Managing Partner / Lawyer | 4/5 |
| | Dr Sylvia Choo Henn Tean | 2010 | Senior Consultant Paediatrician | 4/5 |
| | Mr Damien Tan Lip Wui | 2010 | Managing Director | 1/5 |
| | Mr Vincent Chen Wei Ching | 1994 | Director | 3/5 |
| | Ms Angeline Ooi May Ling | 2012 | Managing Director | 2/5 |
| | Mr Milton Ong Ann Kiat | 2012 | Civil Servant | 5/5 |
School Management Committee
Appointment
Name
Chairman
A/P (Dr) Kenneth Poon Kin Loong
Supervisor
Mr Yew Teng Leong
Treasurer
Mr Pek Choon Lee
Secretary
Ms Jessica Wee Keok
Ex-officio
Ms Tan Sze Wee
Members
Ms Fauziah Ahmad
Ms Chee Nian Tze
Mr Louis Lim Hee Thuang
Prof (Dr) James Hui Hoi Po
Mr Milton Ong Ann Kiat
Ms Evangeline Chua Siew Cheng
Mrs Chong Suet Fong
Ministry of Education Representative (till 31 Dec 2017)
Ms Janice Beh
Ministry of Education Representative (from 1 Jan 2018)
Board Sub-Committees
Admission & Assessment Committee
Dr Kenneth Reginald Lyen (Chairman)
Prof (Dr) James Hui Hoi Po
Dr Sylvia Choo Henn Tean
Dr Yvonne Ling Li-Fang
Audit Committee
Mr Vincent Chen Wei Ching (Chairman)
Mr Damien Tan Lip Wui
Ms Cindy Ho Soo Hooi
Appointment / Nomination Committee
Mr Yew Teng Leong (Chairman)
Prof (Dr) Lee Eng Hin
Ms Chee Nian Tze
Finance Committee
Mr Pek Choon Lee (Chairman)
Mr Yew Teng Leong
Ms Angeline Ooi May Ling
Fundraising Committee
Mr Chew Kei-Jin (Chairman)
Ms Angeline Ooi May Ling
Mr K Venka
Mr Yew Teng Leong
Human Resource Committee
Ms Evangeline Chua Siew Cheng (Chairman)
Mr Milton Ong Ann Kiat
Ms Cindy Ho Soo Hooi
Ms Tan Hui Lin
Mr Yew Teng Leong
Programme & Education Committee
A/P (Dr) Kenneth Poon Kin Loong (Chairman)
Dr Chen Mo
Dr Sylvia Choo Henn Tean
Dr Huichao Xie
Mr Kevin Leong Yu Vee
Management Leaders
Ms Tan Sze Wee
Executive Director
Mr Malcolm Wong Wee Leong
Deputy Executive Director
Ms Fauziah Ahmad
Principal, Rainbow Centre Margaret Drive School
Ms Jessica Wee Keok
Principal, Rainbow Centre Yishun Park School
Mr Richard Yap Long Wen
Director, Finance and Operations
Corporate Governance
RC is committed to a high standard of compliance with requirements for accounting, financial reporting, internal controls, corporate governance and auditing.
The Board meets once a quarter and additional meetings are convened as needed.
Reserves Policy
RC maintains a prudent reserves policy. Its objectives when managing its funds are to safeguard and maintain adequate working capital to ensure continuity of its operations and develop its principal activities over the long term.
Conflict of Interest
RC has a Conflict of Interest policy in place to prevent and address conflicts of interest. Board and committee members and employees of RC are required to declare any personal or private businesses or associates that might pose a conflict to their functions or employment with RC.
Remuneration of Key Executives and Board Members
Total remuneration* for top three key executives:
| Remuneration Range | Number of staff |
| --- | --- |
| $100,000 – $200,000 | 1 |
| $200,000 – $300,000 | 2 |
*Remuneration comprises basic salaries, bonuses, annual wages supplements, variable components, and contributions to the Central Provident Fund.
Board members do not receive any remuneration for their involvement and contribution to RC.
There is also no staff member who is related to any Board members or the Executive Director, and whose remuneration exceeds $50,000 during the year.
Whistle-Blowing Policy
RC does not tolerate any malpractice, impropriety, statutory non-compliance or wrongdoing by employees in the course of their work. A Whistle-Blowing Policy is in place to facilitate reporting of individual or organisation malpractice, without fear of reprisal, discrimination or adverse consequences.
Financial Statements for FY 2017/2018
Other Annual Reports