Co-Creating An Inclusive Community
In our work with persons with disabilities, we seek to adopt a person-centric approach. We listen to what they (and their families) define as a good life, and support them in the journey to attain it. This charting of direction by the person with disabilities is important because we believe that everyone has a voice. Whether they are in school, or out in the community, we hope our clients can lead empowered and thriving lives in inclusive communities. We are happy to share some encouraging highlights from the past year.
Empowered
We celebrated the first year of the Family Empowerment Programme, where 76 families have learnt the strategies to manage the persistent, challenging behaviours in their children. These behavioural issues can impede the child's learning and isolate them from the wider community. Through working with a team of therapists and a psychologist, caregivers learnt to communicate in ways that their child could understand and formed new habits to manage their stress, thus improving familial relationships and engagement in the community.
Included
Inclusion can only become a reality when the community is involved in the process. Hence, the Rainbow Centre Training & Consultancy has also stepped up its work to engage with organisations, communities and individuals to co-create inclusive and person-centric mindsets, practices, and services. With our appointment as a Social Service Institute (SSI) Training Partner, our workshops can be funded up to 90% by SkillsFuture Singapore. This allows more organisations and individuals to learn about disabilities and how to build inclusive communities.
Thriving
We have also stepped up our work to prepare students for life after graduation. Several students have begun engaging with the community with the help of Good Life Befrienders. Volunteer befrienders are paired up with our students (15-18 years old), and commit to spending time together weekly, fortnightly, or monthly, over a period of at least six months. Together, they engage in activities that the student has been wanting to, but did not have opportunities for. This initiative has helped youths with disabilities who may be otherwise relatively isolated, to connect with other members of their community. It has also helped deepen the befrienders' understanding of issues related to inclusion.
Over the years, we see many who thrived under the safety net of a school environment, but are now isolated from the community due to a lack of suitable options. Rainbow Centre (RC) is working towards expanding our service offering to include young adults above 18 years old. We will be sharing more information in the coming days.
Our focus remains in working closely with our partners, so that our clients and their families are empowered to be who they want to be, and living thriving lives in inclusive communities. Thank you for partnering us to create a better world for persons with disabilities.
Dr Kenneth Poon
President
Rainbow Centre, Singapore
Ms Tan Sze Wee
Executive Director
Rainbow Centre, Singapore
EARLY INTERVENTION SERVICES
RC's Early Intervention programme (RCEIP) journeys with families and their infants and young children (aged 6 and below) by providing support required for the children to grow, learn, and achieve their developmental milestones. The programme focuses on early intervention within the child's daily routines and natural environment, and adopts a transdisciplinary team approach that involves the family throughout the intervention process.
Toddlers aged 18 month-old and below are enrolled into the EIP@Home programme, which focuses on incorporating intervention strategies into the child's natural environment. Early Intervention Specialists visit the child and family in their home to work on and coach them in effective strategies that support the development of the child. When they turn 19 month-old, the children are enrolled into our centre-based programme.
Highlights
Going Beyond Campus and Home
A series of family events was launched to create opportunities for families to explore and access community facilities with their children. This brings our work with families towards our students' developmental goals beyond the campus and home. At the same time, the friendships formed between the families serve as a valuable resource and support for the caregivers. In 2018, the team organised eight family events, visiting Admiralty Park, Gardens by the Bay, Pasir Ris Park, The Artground, and others.
Sharing Best Practices at Disability Applied Research Forum
Since the introduction of the transdisciplinary and family-centred model of early intervention, the RCEIP team has seen great improvements in the quality of intervention services rendered to our clients. Under this model, teams consisting of early interventionists, therapists, psychologists, and social workers work closely with students' families to set and work towards developmental goals. In contribution to sector partners, RCEIP presented this model at the inaugural Disability Applied Research Forum (DARF) held in March 2019.
Our Story
When second-time parents Mr and Mrs Sim knew that their baby, Zanna, had Down syndrome, they realised it would be a new learning journey. They felt lost and unsure how to care for a child with special needs; children with Down syndrome may have physical impairments and developmental delays. What can we do to help her fulfil her potential, they wondered.
Through SG Enable's referral, Zanna's parents enrolled her into the EIP@Home programme. "For Zanna, everything is a struggle. We needed to train her to walk, for example. Nothing comes easy. " Over time, the family began to understand the importance of being intentional to move Zanna towards developmental milestones. They learnt how to help her build muscle strength by balancing on the gym ball and practicing to crawl. They also began training Zanna to use her oral muscles correctly by getting her to mimic their actions and doing facial massages for her.
"I really think Zanna is very fortunate to be born in this era," Mrs Sim reflects. "There are a lot of facilities, intervention and help given."
Students Served
| | |
| --- | --- |
| MARGARET DRIVE | YISHUN PARK |
| 286 | 313 |
SPECIAL EDUCATION
Rainbow Centre (RC) schools aim to nurture young persons with disabilities (aged 7-18) into adults who are able to live independently and interdependently, learn to grow continuously, and engage in active participation and contribution to the community. The outcomes-based functional curriculum is facilitated by a teaching team and supported by an interdisciplinary team of therapists, psychologists, and social workers to enable students to access their educational goals.
Highlights
Representing Our Nation
Three RC students represented Singapore at the ASEAN Autism Games 2018 in Jakarta, Indonesia. Brian Lau obtained fourth place in the 50m freestyle swim event (boys aged 11-15) and Kristin Tan obtained sixth place in the 50m freestyle swim event (girls aged 11-15). Vince Tan came in second in the 50m run event and fifth place in the 100m run (boys aged 16 and above).
Chew Jun Hong represented Singapore at the Special Olympics World Summer Games 2018 in Abu Dhabi. He obtained the bronze medal in the bocce singles event. Jun Hong and his team-mate came in fourth place in the bocce males doubles event.
Vocational Training
The inaugural batch of 22 students under the Work Experience Programme (WEP) successfully completed work attachments at various companies. Among the eight students who graduated in end 2018, six have since found employment and two are in SG Enable's Project Internship programme, where they continue to be supported in vocational training. We have also piloted laundromat training at the Margaret Drive campus for students who require more support. This allows them to pick up industry-specific vocational skills and expand their vocational options.
Talent Art Programme
This programme develops students for art-related work and engagement opportunities. The inaugural batch of four students worked with Pilot Pen in a fundraising and advocacy partnership, where their works were adapted and printed on limited-edition pen sets and exhibited on SBS Transit buses and at The Cathay.
Lee Kuan Yew – Exemplary Student Award
Four RC students received the Lee Kuan Yew – Exemplary Student Award, which honours the abilities and achievements of students with disabilities. They are Filmer Tan and Noah Tan from Margaret Drive School (MDS), and Chai Chang Xun and Danial Isaac from Yishun Park School (YPS).
MOE-NCSS Outstanding Teacher Award
Senior Sports Coordinator Maria Koh was awarded the MOE-NCSS Outstanding SPED Teacher Award, in recognition of her work to shape the physical education programme to include students of different abilities and their families.
Our Story
Sri Raghavendra is an affable young man with a ready smile. He was also among the first batch of RC students who went on internships. His first job was with the housekeeping team at the Siloso Beach Resort, where he helped to keep the environment clean and pleasant for patrons. Then, he picked up barista and server skills at RC's Seeds cafe, set up as an avenue for students to develop vocational skills. In his final year in RC, Sri was an intern at Pizza Hut.
Sri did so well in his internship that, upon graduating from RC in end-2018, he secured a part-time job as a drinks bar server at Pizza Hut. Since then, his diligence has won his supervisor's praise. Sri takes well to assigned tasks and is always ready to lend a helping hand. When there are no orders for drinks, Sri takes the initiative to help in other ways, such as replenishing the items in the drinks bar, or arranging the dining chairs neatly. Half a year into his employment, Sri has grown in confidence too, announcing the drinks orders promptly when serving, coupled with a beautiful smile that melts hearts.
Chew Jun Hong (in red) received a bronze medal for the bocce event at the Special Olympics World Summer Games 2018.

(From left) Talent Art Programme artists Muhammad Shahfiq, Danial Isaac and Noah Tan with one of the SBS Transit buses bearing Danial's artwork.

RC alumni Sri Raghavendra looking smart in his Pizza Hut staff uniform.
Students Served
| | | |
| --- | --- | --- |
| MARGARET DRIVE | YISHUN PARK | WOODLANDS |
| 438 | 462 | 94 |
OOSH (RC student care)
OOSH is an out-of-school-hours care service for students with disabilities (aged 7-18) attending special education schools in Singapore. OOSH centres support families by providing the students in its care a vibrant, nurturing and safe environment with a range of activities aimed at cultivating the interests and abilities of each student.
Highlights
OOSH Margaret Drive
OOSH Margaret Drive served 33 families in its first year of operation. Students were able to establish healthy routines of coming to OOSH before or after school and participating in activities that enhance the development of daily living skills. Interacting with other students also served to improve their social-emotional awareness and management. During the school holidays, the centre also planned additional recreational activities to make the holiday time more meaningful.
OOSH Yishun Park
Planning began for the set up of a second centre, OOSH Yishun Park. Situated near RC's Yishun Park campus, this centre is able to serve 50 families. It is slated to open in the second half of 2019.
Our Story
Each day after school, Muhammad Ansari Bin Mohamad Daud's mother brings him home. He has severe autism and is unable to travel by himself. She makes lunch for him and leaves for work, locking the door for his safety. The single mum works two jobs to make ends meet; she is a stall assistant at a primary school canteen and a bus attendant. Ansari whiles his afternoons away on the iPad or watches TV.
Realising this was not healthy for Ansari in the long run, the Family Empowerment Programme team working with Ansari's mother and the school team proposed to refer him to OOSH. Adjusting to the new environment was difficult for Ansari, but he eventually got used to the routine. He learnt good habits, such as washing up after a meal. He learnt to care for others too, as all students are rostered to do simple chores such as sweeping the floor and wiping the tables. Most importantly, he got to engage with other teens with disabilities over healthy recreational activities such as table tennis and music and movement time. Knowing that Ansari is well cared-for gives his mother peace of mind as she works to support the family.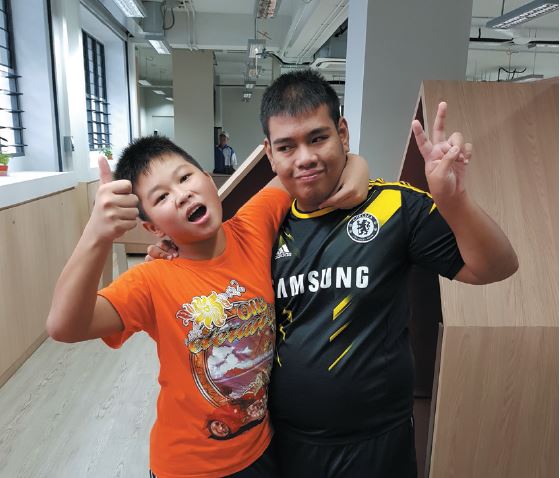 FAMILY EMPOWERMENT PROGRAMME
The Family Empowerment Programme (FEP) is an intensive coaching programme to equip parents with the skills, strategies, and resources to manage their child's challenging and at times aggressive behaviours. These behaviours often affect their child's education and ability to participate in community life, resulting in isolation and heightened stress for the whole family.
Designed to be a strengths-based, family-driven programme, FEP therapists also help families to draw up and implement proactive plans to encourage positive behaviour, as well as contingency plans that will serve the families during challenging episodes.
Our Story
It seemed like yesterday when Mdm Eliza Ou was still struggling to help her son, 10-year-old Jersey Wang, to manage his behaviour. Things were especially trying when he had meltdowns; no one could understand what Jersey wanted or was struggling with.
The FEP team started working closely with Mdm Ou. Since Jersey is great at understanding instructions when it's communicated to him through visuals, the team worked out a system for Mdm Ou to do that. They also taught her to break down what she wanted to say into sequential, bite-sized bits. For example, when the family was planning for a cruise holiday, Mdm Ou prepared Jersey by showing him pictures of what he can expect: how they will get to the cruise centre, how the cruise ship looks like, and what they will be doing and seeing on the holiday. While such a strategy may seem onerous, it was necessary to help Jersey to remain calm and engaged.
Mdm Ou has also implemented a similar visual schedule at home. Over time, she noticed that Jersey was able to stay focused for longer periods of time, at home and at the playground.
Seeing his improvement, Mdm Ou wants to incorporate simple household chores into his schedule next. This will help him spend his time at home more meaningfully, and gain independence.
SCHOOL TO COMMUNITY
School to Community (S2C) is a project to support persons with significant disabilities as they graduate from special education at 18 years old. It focuses on developing person-centric transition management and individualised care planning to maximise independence, productivity, and inclusion. The outputs of the S2C project has built the foundation for new RC services in support of adults with disabilities, which is targeted for roll-out in the second half of 2019.
Highlights
Launch of the Good Life Befrienders Programme
The befriending programme was started as a way to meet the unique needs of youths with disabilities and to support their post-school goals, particularly of being engaged and connected with the community. Volunteers are paired up with our students (15-18 years old) and they commit to spending time together weekly, fortnightly, or monthly, over a period of at least 6 months. This expands their network of friends and also deepens the befrienders' understanding of issues related to inclusion.
Our Story
Nikki Ang graduated from Rainbow Centre last year. She's a bubbly, friendly teenager who loves Taiwanese singer Jay Chou. Her other love is storytelling. "I like storytelling because I like young children. They are so cute!" Nikki often says. Though she relies on a wheelchair and has limited mobility in her limbs, that has not stopped Nikki from pursuing her dreams.
Her befrienders Cheryl-Ann Low and Hoe Li Jun meet her twice a month. Upon learning about Nikki's wish to do storytelling, Li Jun invited Nikki to visit the pre-school where she works. They could do a programme for the children, Li Jun suggested. Things were set in motion and they selected two stories to tell the children. At their meet-ups, Cheryl and Li Jun would practice with Nikki. Nikki was scared, but pressed ahead with their encouragement.
The storytelling session turned out great. Nikki enjoyed herself and learnt that actually, "There's nothing to be afraid of."
With the help of our community partners, Nikki has gone on to tell stories in other pre-schools and at public events. They have also linked her up with theatre practitioners for storytelling training.
Active Befrienders
RAINBOW CENTRE TRAINING & CONSULTANCY
As RC's capability-building arm, the Rainbow Centre Training & Consultancy (RCTC) partners organisations, communities, and individuals to co-create inclusive and person-centred mindset, practices, and services to empower persons with disabilities to thrive in an inclusive community.
For the sector, RCTC builds capabilities of professionals such as educators, allied professionals, coaches, social workers, and care workers by equipping them with deep skills to work with persons with disabilities and their families to achieve person-centred outcomes.
For organisations, RCTC provides consultancy and customised training to help organisations better serve and include persons with disabilities such as clients, colleagues, or as members of the community.
For the community, RCTC runs public or customised workshops in disability awareness and support strategies for families, volunteers, befrienders, and the general public to enhance the quality of life and social inclusion for persons with disabilities.
Highlights
Social Service Institute Training Partner
RCTC was appointed as Training Partner under the Training Network Model partnership with the Social Service Institute, allowing workshops to be funded up to 90% by SkillsFuture Singapore. With this funding, more individuals and organisations can be trained in disability awareness, and practical know-how to include and work with persons with disabilities.
Partnership with e2i To Train Student Care Teachers
Supported by the Employment and Employability Institute (e2i), RCTC started to offer training programmes to develop the capabilities of student care teachers in the community.
Our Story
RCTC worked with the National Museum of Singapore on a series of initiatives to make the museum a welcoming and safe place for visitors with disabilities. This collaboration began with RCTC providing advice on the creation of quiet spaces in the museum.
Following that, RCTC also conducted customised workshops for the National Museum staff and volunteers to help them in preparing and designing a friendly visitor's experience. Workshop participants gained a deeper understanding on common disabilities and how to engage with visitors with disabilities. They also had hands-on sessions where they learnt to create a sensory map. This useful tool plots the various points in the gallery that emit sounds (sudden or too loud) or light (very dark or too bright) that might be disconcerting for visitors who are sensitive to them. Following the workshops, much of what was taught were implemented in the National Museum, including sensory maps and tool kits to help caregivers and organisations prepare for the museum visit.
By making public spaces like the National Museum accessible for all, persons with disabilities and their families will have more opportunities to explore the community beyond their homes.
Statistics
| | |
| --- | --- |
| TRAINING HOURS PROVIDED | PERSONS TRAINED |
| 2,475 | 3,670 |
THANK YOU FOR YOUR PARTNERSHIP
We engage communities so that together, we can build an inclusive society. The partnership and support of donors, volunteers, and the general public goes a long way in providing opportunities that are otherwise inaccessible to our clients with disabilities.
Highlights
Superhero Me
In November 2018, inclusive arts movement Superhero Me began a five-month art residency in RC. The team of 20 facilitators and 6 artists worked closely with RC students in art, music and movement, and theatre projects. Through spending extended time together, the team drew out aspects of the students' inner world: their hopes, dreams, and thoughts. The art residency culminated in the Peekaboo! arts festival at RC's Margaret Drive campus, open to members of the public. Festival programme included an exhibition of the works by RC students and the Superhero Me team, as well as panel discussions for parents and those who want to create inclusive communities.
Tan Chong International and DUO Rewards
Since 2017, Tan Chong International and DUO Rewards have been giving back to the community through partnering with RC. In 2018, the company donated a brand-new Nissan van to the Woodlands campus. This allows us to bring the students for outings in our community. They also conducted a respite activity for caregivers, themed "Eat Craft Love". Caregivers picked up cooking tips from famous chef Anthony Yeoh and made beautiful photo albums of their families.
Singapore University of Social Sciences (SUSS)
Two batches of SUSS students have been volunteering with RC since August 2018. The vibrant student teams organised the National Day 2018 and Lunar New Year 2019 celebrations at our Yishun Park campus. On top of that, they are also volunteering in the Yishun Park and Woodlands campus classes. Most importantly, the student group has committed to recruiting new volunteers each year, ensuring a constant pipeline of volunteer support.
Our Story
"Looking back, my time spent volunteering at Rainbow Centre's Early Intervention programme has been enjoyable and enriching. It's always so heartwarming when the children greet me so enthusiastically in the morning, sometimes with hugs or engaging me in conversation about their own little world. It is also rewarding to witness how early intervention can make a big difference in a child's developmental years and being able to play a small part walking with them through this learning journey. Many of our children have made great progress under the loving care of their teachers and therapists and that has convinced me that investing my time here is definitely worthwhile."
Mrs Irene Tang Homemaker. Volunteer for 10 years.
CORPORATE INFORMATION AND GOVERNANCE REPORT
The Rainbow Centre (RC) Board of Governance holds the fundamental responsibility in overseeing the management of the organisation and ensures that RC's programmes and services are aligned to its vision and mission. To this end, the Board sets RC's strategic direction, provides financial oversight, establishes policies, and ensures that RC has adequate resources to sustain its activities.
As an extension of their responsibility and contribution, RC Board members are also involved in sub-committees pertaining to their area of expertise. Sub-committees focus on the alignment of strategy and creating sustainable impact to benefit our clients, with prudent governance as the backdrop.
The RC Board notes that some of its members have served on the Board for more than 10 consecutive years. The Board, after a review, concluded that RC will continue to benefit from these members continuing to serve on the Board of Governance, as their experience and knowledge in the areas of disabilities and special education will provide the Board with valuable insights and direction.
Leadership Renewal
In September 2018, Dr Kenneth Poon was elected as the new President of RC's Board of Governance. As a clinical psychologist, early childhood special educator and researcher, Dr Poon has over 20 years of experience working with children with developmental disabilities. Having served as Vice-President of RC's Board since 2012, Dr Poon is familiar with our strategic direction and the unique challenges faced by our clients. This appointment builds on his experience and expertise to further strengthen RC's services to benefit our clients.
We would like to thank past president Mr Yew Teng Leong for his leadership. During his tenure from 2010 to 2018, Mr Yew was involved in starting the two existing purpose-built schools and setting up our third campus. He was instrumental in the expansion of our services, such as extending the age limit for the Special Education programme from 12 to 18 years old, and the provision of vocational training and transition planning for graduating students, thus improving opportunities for community engagement for our graduates.
Corporate Governance
RC is committed to a high standard of compliance with requirements for accounting, financial reporting, internal controls, corporate governance, and auditing.
The Board meets once a quarter and additional meetings are convened as needed.
Reserves Policy
RC maintains a prudent reserves policy. Its objectives when managing its funds are to safeguard and maintain adequate working capital to ensure continuity of its operations and develop its principal activities over the long term.
Conflict of Interest
RC has a Conflict of Interest policy in place to prevent and address conflicts of interest. Board and committee members and employees of RC are required to declare any personal or private businesses or associates that might pose a conflict to their functions or employment with RC.
Remuneration of Key Executives and Board Members
Total remuneration* for top three key executives:
Remuneration of Key Executives and Board Members
Total remuneration* for top three key executives:
| Remuneration Range | Number of staff |
| --- | --- |
| $100,000 – $200,000 | 2 |
| $200,000 – $300,000 | 1 |
*Remuneration comprises basic salaries, bonuses, annual wages supplements, variable components, and contributions to the Central Provident Fund.
Board members do not receive any remuneration for their involvement and contribution to RC.
There is also no staff member who is related to any Board members or the Executive Director, and whose remuneration exceeds $50,000 during the year.
Whistle-Blowing Policy
RC does not tolerate any malpractice, impropriety, statutory non-compliance or wrongdoing by employees in the course of their work. A Whistle-Blowing Policy is in place to facilitate reporting of individual or organisation malpractice, without fear of reprisal, discrimination or adverse consequences.
Board of Governance (2018 – 2020)
Appointment
Name
Year Joined
Occupation
Attendance at Board Meetings
Attendance at Committee Meetings

President (From Sep 2018)

Vice-President (Until Aug 2018)

Dr Kenneth Poon
2007
Associate professor
4/4
5/7

Vice-President (From Sep 2018)

Assistant Treasurer (Until Aug 2018)

Mr Chew Kei-Jin
2014
Managing director/Lawyer
0/4
3/4

Honorary Treasurer (From Sep 2018)

Committee Member (Until Aug 2018)

Mr Damien Tan
2010
Managing director
1/4
3/5

Assistant Treasurer (From Sep 2018)

Committee Member (Until Aug 2018)

Ms Angeline Ooi
2012
Managing director
1/4
3/4

Honorary Secretary (From Sep 2018)

Committee Member (Until Aug 2018)

Mr Milton Ong
2012
Civil servant
3/4
6/6

Past President (From Sep 2018)

President (Until Aug 2018)

Mr Yew Teng Leong
1992
Consultant
4/4
9/9
Committee Member
Mr Alban Kang
1992
Managing partner / Lawyer
2/4
NA
Committee Member (From Sep 2018)
Ms Evangeline Chua
2018, 2014-2016
Chief HR officer
1/4
5/8
Committee Member (From Nov 2018)
Prof Dr James Hui
2018
Professor
0/2
5/8
Committee Member
Dr Kenneth Reginald Lyen
1992
Paediatrician
1/4
4/4
Committee Member (From Nov 2018)
Mr Kevin Leong
2018
Director
2/2
2/2

Committee Member (From Sep 2018)

Past President (Until Aug 2018)

Prof Dr Lee Eng Hin
1992
Professor / Orthopaedic surgeon
2/4
1/1

Committee Member (From Sep 2018)

Honorary Treasurer (Until Aug 2018)

Mr Pek Choon Lee
2010
Managing director
1/4
1/3
Committee Member
Dr Sylvia Choo
2010
Senior consultant paediatrician
3/4
1/6
Committee Member
Mr Vincent Chen
1994
Director
3/4
2/2
Notes:
a. Ms Chee Nian Tze joined the Board in 2010 and stepped down in August 2018. She was Honorary Secretary prior to stepping down.
b. As Board members were appointed or resigned at different times, the number of meetings reflects only the number which is applicable to the Board member during his/her term.
School Management Committee
Appointment
Name
Chairman (From Dec 2018)
Member (Until Nov 2018)
Mr Milton Ong
Supervisor (From Dec 2018)
Chairman (Until Nov 2018)
Dr Kenneth Poon
Honorary Treasurer (From Dec 2018)
Mr Damien Tan
Secretary
Ms Jessica Wee Keok
Members
Dr Abdul Majeed Bin Abdul Khader (From Dec 2018)
Ms Cindy Ho
Ms Evangeline Chua
Prof Dr James Hui
Mr Louis Lim
Ms Michelle Ong (From Jan 2019)
Ms Tan Sze Wee (From Jan 2019)
Ms Janice Beh
Ministry of Education Representative (from 1 Jan 2018)
Board Sub-Committees
Admission & Assessment Committee
Prof Dr James Hui (Chairman)
Dr Kenneth Reginald Lyen
Dr Sylvia Choo
Dr Yvonne Ling
Audit Committee
Mr Vincent Chen (Chairman)
Ms Cindy Ho
Mr Pek Choon Lee
Appointment & Nomination Committee
Dr Kenneth Poon (Chairman)
Prof Dr Lee Eng Hin
Mr Yew Teng Leong
Finance & Investment Committee
Mr Damien Tan (Chairman)
Ms Angeline Ooi
Mr Chew Kei-Jin
Dr Kenneth Poon
Fundraising & Partnership Committee
Mr Chew Kei-Jin (Chairman)
Ms Angeline Ooi
Mr Yew Teng Leong
Human Resource Committee
Ms Evangeline Chua (Chairman)
Ms Tan Hui Lin
Mr Yew Teng Leong
Education & Programme Committee
Mr Kevin Leong (Co-Chairman)
Dr Sylvia Choo (Co-Chairman)
Dr Chen Mo
Dr Huichao Xie
Ms Julene Tan
Dr Yvonne Ling
Management Leaders
Ms Tan Sze Wee
Executive Director
Mr Malcolm Wong
Deputy Executive Director
Ms Michelle Ong
Principal, Rainbow Centre Margaret Drive School
Ms Jessica Wee
Principal, Rainbow Centre Yishun Park School
Mr Richard Yap
Director, Finance and Operations
Financial Statements
Past Annual Reports